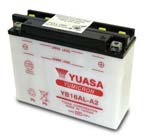 YAMAHA VX600E/DX Vmax 600 LE/DX (YB16AL-A2) Battery Replacement
Price: $93.95


Brand:
YAMAHA
Product:
YB16AL-A2
Battery Model:
VX600E/DX Vmax 600 LE/DX
YAMAHA CF300 Inviter (300cc, ''86-''90) SNOWMOBILE BATTERY
MOTM22162, dry
NULL
yamaha, a well-known industry leading battery manufacturer, presents the vx600e/dx vmax 600 le/dx battery replacement. the vx600e/dx vmax 600 le/dx is built tough with strong, durable materials. it has also been guaranteed to equal or out-perform yamaha's original specifications. with thousands of batteries to choose from and extremely low prices you'll see why batterytex is your one-stop-shop for replacement batteries. thank you for making batterytex your provider of replacement batteries at everyday low prices. want more information or bulk discounts? call us now at 1-888-825-6661. need other motorcycle and powersport batteries batteries? browse our complete stock here. click here to view our entire stock of items for yamaha products. with increases in technology and materials, batteries have increased in performance, energy and cost. warranties for batteries and other products on this site are dependent upon the product and the manufacturer. please contact us with the specific model for warranty information.