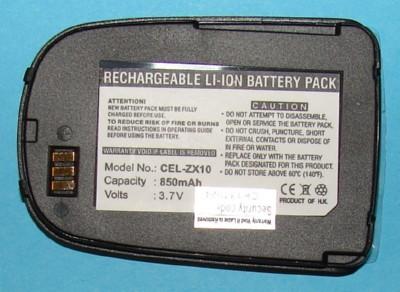 CEL-ZX10 - SAMSUNG SGH-Z140 3.7v 850 mAh LION Replacement Battery by BatteryTex
Price: $16.58


Replacement for:
SAMSUNG
Product:
CEL-ZX10
Battery Model:
SGH-Z140
Battery Specifications and Description
Replacement for: SAMSUNG Battery/Item: CEL-ZX10
Model/Product: SGH-Z140 Volts: 3.7
mAh or Ah: 850 Composition: LION
Dimension: Connector: NULL

Introducing the CEL-ZX10 Battery Replacement.



Introducing the CEL-ZX10 Battery Replacement - the perfect power solution crafted to replace the SAMSUNG CEL-ZX10 battery. Energize your devices with this high-performance Li-ion battery.
With a voltage of 3.7 and a capacity of 850mAh, this battery ensures a reliable and long-lasting performance for your electronic gadgets. Its advanced Li-ion composition guarantees efficiency and endurance, making it an optimal choice for various applications.
Upgrade your power source with the CEL-ZX10 Battery Replacement. Whether it's for your Model/Product SGH-Z140 or any other compatible device, this battery delivers a seamless flow of power to keep your gadgets running smoothly.
Model/Product: SGH-Z140
Voltage: 3.7V
Capacity: 850mAh
Composition: Li-Ion
Price:
$24.99
Bid farewell to battery concerns and embrace the reliability of the CEL-ZX10 Battery Replacement. Its high capacity ensures extended usage, making it perfect for your electronic devices.
Don't miss out on the opportunity to enhance your device's performance. Get your CEL-ZX10 Battery Replacement now and experience the uninterrupted power supply for all your electronic endeavors!
We offer bulk discounts and top-flight customer service so drop us a line at 1-888-825-6661. click here to find other cell phone batteries and accessories batteries. search and find other batteries from samsung at batterytex.com our batteries are more reliable, efficient and powerful with greater longevity and much lower pricing than ever before. one-year warranty on most batteries - from the manufacturer. for specifics or to inquire about a specific product please contact us.