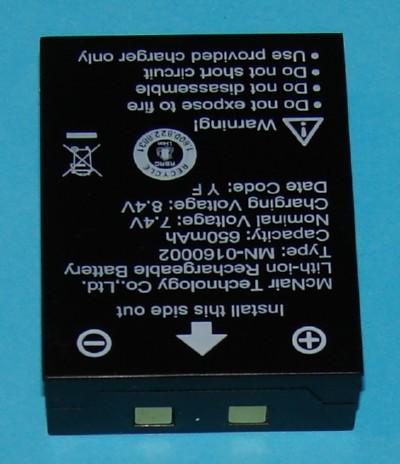 COM-MN0160001 - COBRA MN-0160001 7.4v 650 mAh LION Replacement Battery by BatteryTex
Price: $13.25


Replacement for:
COBRA
Product:
COM-MN0160001
Battery Model:
MN-0160001
Battery Specifications and Description
Replacement for: COBRA Battery/Item: COM-MN0160001
Model/Product: MN-0160001 Volts: 7.4
mAh or Ah: 650 Composition: LION
Dimension: 50.1 X 36.5 X 12.6 Connector: PRESSURE

Introducing the MN-0160001 Li-ion Battery Replacement.



Introducing the MN-0160001 Battery Replacement - the ultimate power solution designed to replace the COBRA COM-MN0160001 battery. Energize your devices with this high-performance Li-ion battery.
With a voltage of 7.4 and a capacity of 650mAh, this battery ensures a reliable and long-lasting performance for all your electronic gadgets. Its advanced Li-ion composition guarantees efficiency and endurance, making it an optimal choice for various applications.
Upgrade your power source with the MN-0160001 Battery Replacement. Whether it's for your Model/Product MN-0160001 or any other compatible device, this battery delivers a seamless flow of power to keep your gadgets running smoothly.
Bid farewell to battery worries and embrace the reliability of the MN-0160001 Battery Replacement. Its compact dimensions of 50.1 X 36.5 X 12.6, along with the PRESSURE connector, ensure a hassle-free installation process.
Model/Product: MN-0160001
Voltage: 7.4V
Capacity: 650mAh
Composition: Li-Ion
Price: $34.99
Enhance Your Electronic Experience: Empower your COBRA devices with the COM-MN0160001 Replacement Battery. Carefully crafted to match the specifications of the original, this battery ensures a seamless fit and consistent performance.
Dimensions:
Length: 50.1mm
Width: 36.5mm
Height: 12.6mm
Connector: Pressure
Don't miss out on the opportunity to enhance your device's performance. Get your MN-0160001 Battery Replacement now and experience the uninterrupted power supply for all your electronic endeavors!
We also offer bulk discounts and top-flight customer service so drop us a line at 1-888-825-6661.
Looking for more frs - gmrs batteries batteries? click here or more in-stock items for cobra products.
Warranty: If you want to know about the warranty on a certain battery simply contact us with the battery's part number.