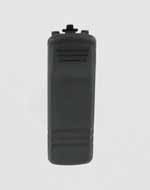 MOTOROLA XTS-3000 (Long Clip, CLP-XTS(L)) Battery Replacement
Price: $9.46


Brand:
MOTOROLA
Product:
Long Clip, CLP-XTS(L)
Battery Model:
XTS-3000
Motorola XTS-3000 Long Clip


when it comes to two way batteries - the xts-3000 motorola replacement battery provides the power you need when you need it. count on the xts-3000 when you need quality and durability. as well, motorola's original specifications for this product have been equaled or exceeded in performance. with thousands of batteries to choose from and extremely low prices you'll see why batterytex is your one-stop-shop for replacement batteries. batterytex.com, an industry leader in replacement batteries - featuring some of the lowest online rates available. we also offer bulk discounts and top-flight customer service so drop us a line at 1-888-825-6661. here two way batteries batteries at great prices. to see our full inventory of batteries from this manufacturer click here. with better materials and manufacturing processes batteries have become smaller, more efficient and more affordable. manufacturers supply the necessary warranties on batteries that we carry. typical warranties are for 1 year while others change depending on the battery type and the maker.