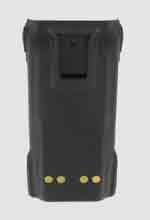 MOTOROLA XTS-2500 (NTN9858A, WWH-NTN9858A) Battery Replacement
Price: $73.04


Brand:
MOTOROLA
Product:
NTN9858A, WWH-NTN9858A
Battery Model:
XTS-2500
Motorola XTS-2500 Two-way Radio Battery Replacement


when it comes to power and energy the xts-2500 motorola replacement is the king of two way batteries. the xts-2500 is built tough with strong, durable materials. plus the original specs set forth by motorola are met or exceeded. batterytex.com - your one-stop shop for replacement batteries, chargers and more. batterytex - your source for amazing prices on the best batteries on the market. have questions on this product or want to buy bulk? call our techs now at 1-888-825-6661. if you need another two way batteries battery click here to view our selection. we stock a great selection of items for motorola products. click here to see. using updated materials, manufacturing techniques and modern technology today's batteries provide greater benefits from increased life-spans to decreased costs. most all of our batteries have a one year warranty unless otherwise specified. please feel free to contact us for actual battery warranty information.