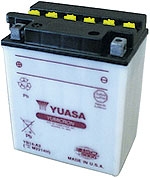 HARLEY-DAVIDSON XLCH Series (Sportster) (12N7-4A (dry)) Battery Replacement
Price: $46.95


Brand:
HARLEY-DAVIDSON
Product:
12N7-4A (dry)
Battery Model:
XLCH Series (Sportster)
ARCTIC CAT All EFI Models 500cc & Over (Without Electric Start) (cc, '94-'01) SNOWMOBILE BATTERY
MOTM227AY, dry

looking for powerful motorcycle and powersport batteries? then look no further than the harley-davidson xlch series (sportster) replacement battery. only the best components are used in the manufacture of the xlch series (sportster). equaling or exceeding the original manufacturer's specifications for your equipment at an affordable price is a hallmark of harley-davidson. batterytex - your source for amazing prices on the best batteries on the market. batterytex.com - your one-stop shop for replacement batteries, chargers and more. have questions on this product or want to buy bulk? call our techs now at 1-888-825-6661. looking for other motorcycle and powersport batteries batteries? search our stock here for more. browse other terrific products by manufacturer: harley-davidson enhanced efficiency, power and longevity make today's batteries better and more cost-effective for consumers. battery warranties can run from one year to more and this depends on the type of battery and the manufacturer. for specifics contact us with the battery in question.