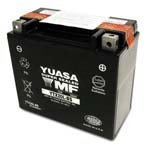 BUELL X1 LIGHTNING (YTX20L) Battery Replacement
Price: $131.95


Brand:
BUELL
Product:
YTX20L
Battery Model:
X1 LIGHTNING
BUELL X1 LIGHTNING (1200cc, 99-02) MOTORCYCLE BATTERY
MOSM720BH, with acid

the x1 lightning buell replacement battery provides peace of mind making it the right choice among motorcycle and powersport batteries. only the best materials are used in the x1 lightning. it's also built to meet or exceed the original buell specs. save time, money and hassle and get your batteries at unbeatable prices at batterytex.com. thank you for making batterytex your provider of replacement batteries at everyday low prices. click here to contact us for more information on this product or call us at 1-888-825-6661 here motorcycle and powersport batteries batteries at great prices. for other great batteries from buell follow this link! enhanced efficiency, power and longevity make today's batteries better and more cost-effective for consumers. standard battery warranties from the manufacturer are for one year. contact us for more information.