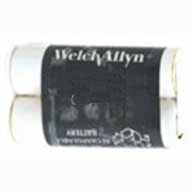 WELCH ALLYN 72700, MicroTymp 1 (5511) Battery Replacement
Please
email
us for pricing.
Replacement for:
WELCH ALLYN
Product:
5511
Battery Model:
72700, MicroTymp 1
WELCH ALLYN 72700, MicroTymp 1 Medical Battery Replacement

MED-72700
(ALSO SEE GRASON-STADLER &, PROTOCOL SYSTEMS)
4697
when you need medical batteries that can put out the power you require then the 72700, microtymp 1 welch allyn replacement battery is the ideal choice. count on the 72700, microtymp 1 when you need quality and durability. from this we have a replacement battery that equals or out-performs the original requirements set forth for your equipment. great replacement batteries, great prices, every day from batterytex.com. batterytex.com, an industry leader in replacement batteries - featuring some of the lowest online rates available. give us a call now at 1-888-825-6661 for more information and great deals on this item. we have a wide selection of medical batteries batteries available. see them here! see more great products by manufacturer: welch allyn with lower costs, better materials, and greater efficiency, batteries now offer more bang for the buck. most all of our batteries have a one year warranty unless otherwise specified. please feel free to contact us for actual battery warranty information.