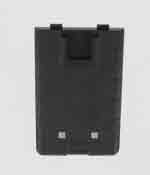 YAESU VXA-150 (AVIATION RADIO) (FNB-64, WWH-FNB64) Battery Replacement
Price: $51.46


Brand:
YAESU
Product:
FNB-64, WWH-FNB64
Battery Model:
VXA-150 (AVIATION RADIO)
Yaesu VXA-150 (AVIATION RADIO) Two-way Radio Battery Replacement


the vxa-150 (aviation radio) replacement battery by yaesu is designed to provide lasting power and reliability. only the best components are used in the manufacture of the vxa-150 (aviation radio). as well, yaesu's original specifications for this product have been equaled or exceeded in performance. our huge inventory and extra low pricing make us the choice for batteries - batterytex.com. batterytex.com - known for our wide selection of the top batteries at some of the lowest prices online. contact us now at 1-888-825-6661 for assistance and information on vxa-150 (aviation radio). need other two way batteries batteries? browse our complete stock here. more in-stock items for yaesu products. batteries are judged on how strong they are, how long they last and how well they're built. our batteries meet all of these qualifications and with amazing prices as well! one-year warranty on most batteries - from the manufacturer. for specifics or to inquire about a specific product please contact us.