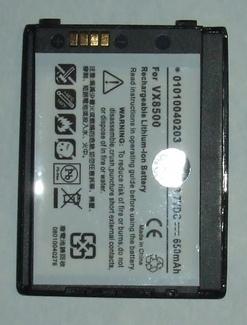 LG-LUCKY GOLDSTAR WHITE CHOCOLATE - VERIZON (CEL-VX8500) Battery Replacement
Price: $13.25


Brand:
LG-LUCKY GOLDSTAR
Product:
CEL-VX8500
Battery Model:
WHITE CHOCOLATE - VERIZON


*** BLACK ****** BLACK ***
lg-lucky goldstar, a well-known industry leading battery manufacturer, presents the white chocolate - verizon battery replacement. man1's process for manufacturing the white chocolate - verizon is high-tech making it one of the best white chocolate - verizons on the market today. as well it has been designed and built to meet or outshine the original specs by lg-lucky goldstar. thank you for making batterytex your provider of replacement batteries at everyday low prices. batterytex.com - known for our wide selection of the top batteries at some of the lowest prices online. contact us now at 1-888-825-6661 for assistance and information on white chocolate - verizon. browse or search our great inventory of cell phone batteries and accessories batteries here. for more quality, long-lasting products for lg-lucky goldstar, click here. our batteries are more reliable, efficient and powerful with greater longevity and much lower pricing than ever before. for battery warranty information please call or email us. our standard manufacturer warranty is one-year however some may offer different periods.