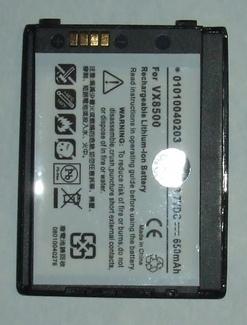 LG-LUCKY GOLDSTAR VX8500 WHITE CHOCOLATE (CEL-VX8500) Battery Replacement
Price: $13.25


Replacement for:
LG-LUCKY GOLDSTAR
Product:
CEL-VX8500
Battery Model:
VX8500 WHITE CHOCOLATE


*** BLACK ****** BLACK ***
all cell phone batteries and accessories are not created equal. the lg-lucky goldstar vx8500 white chocolate replacement battery is the right choice for those seeking performance and efficiency. man1's process for manufacturing the vx8500 white chocolate is high-tech making it one of the best vx8500 white chocolates on the market today. also the original specifications set forth by lg-lucky goldstar have been met or surpassed. our huge inventory and extra low pricing make us the choice for batteries - batterytex.com. batterytex.com, an industry leader in replacement batteries - featuring some of the lowest online rates available. click here to contact us for more information on this product or call us at 1-888-825-6661 if you need another cell phone batteries and accessories battery click here to view our selection. view more from this manufacturer: lg-lucky goldstar using updated materials, manufacturing techniques and modern technology today's batteries provide greater benefits from increased life-spans to decreased costs. each warranty can vary however normal manufacturer warranties are one year. let us know if you have questions on any specific item's warranty.